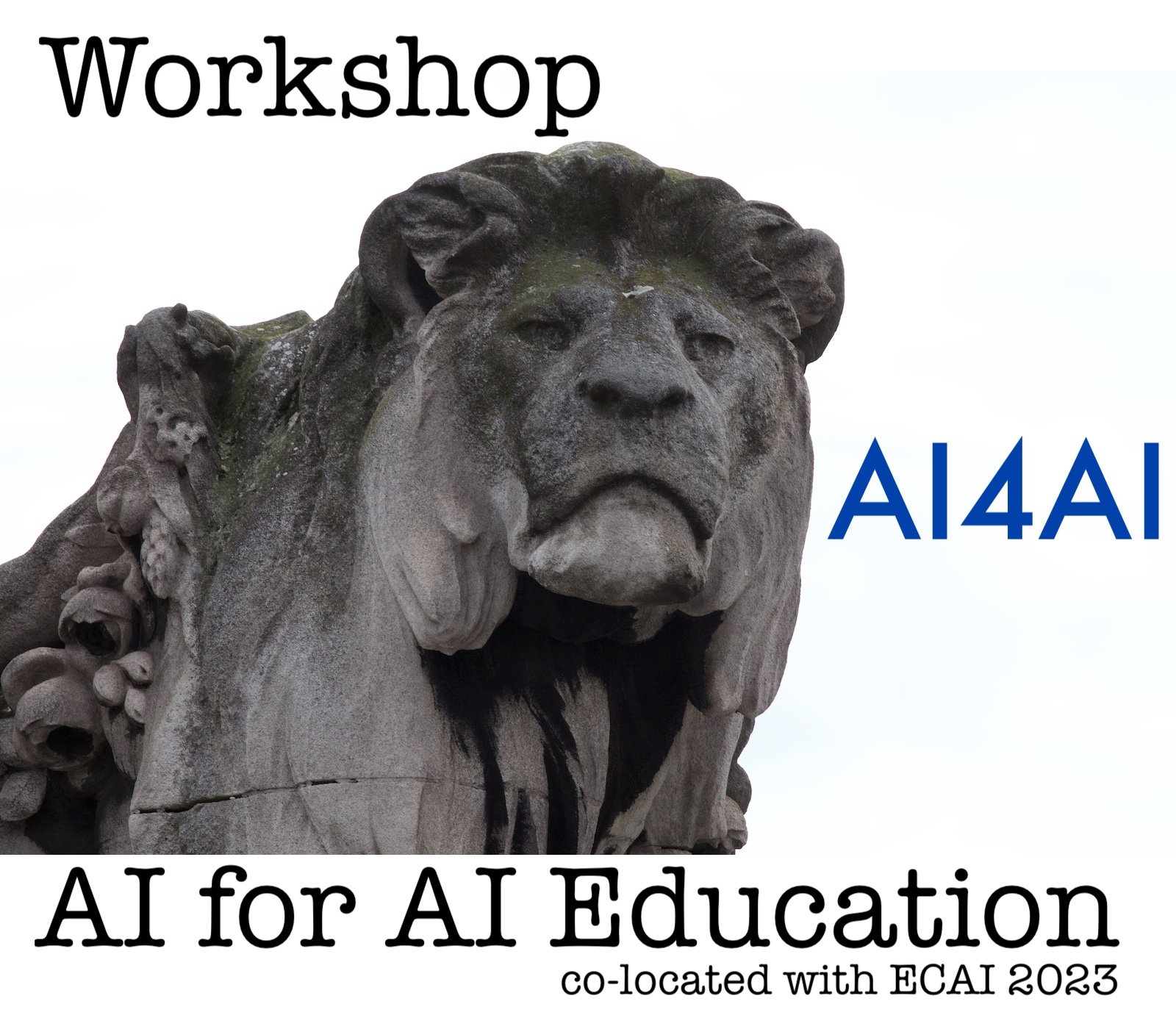 News
there will be published proceedings, negotiations with publisher (Springer) are ongoing
submission site is now open
Introduction
AI4AI aims to provide a platform for exchange of ideas and experiences under the general theme of AI for education, specialising on university education in AI, but interpreting AI in a broad sense. This workshop held at ECAI 2023 brings together researchers involved in these diverse programs dedicated to investigating, developing and exploring AI techniques for AI and computer science education. We also wish to contribute towards forming a European community on the theme of AI for AI education, and foster basic research as well as the development of intelligent assistance technology (e.g., intelligent tutor systems) in a multi-disciplinary setting in order to improve AI education by making use of AI technology itself: AI4AI. Besides researchers with a background in AI, we encourage interdisciplinary contributions from cognitive science and education technology.
Call For Contributions
We invite submission of
technical papers (full paper/short paper)
evaluation methodology papers (full paper/short paper)
application or demo papers (short paper)
position papers (short paper)
paper abstracts of accepted papers (single page)
Technical papers present novel ideas or finding and position results in context of AI-enhanced education of AI. For research-in-progress, submission of short papers are welcome. We particularly encourage young researchers to submit. We also invite authors who recently published results of interest to this workshop to submit a short summary paper which highlights the results and explains relevance. Application contributions present the use or evaluation of AI techniques in an educational context. Evaluations can range from technology oriented (e.g., address software functioning in operational contexts) to human oriented (e.g., address usability or effects of use). Demos focus on (novel) implementations put into practise. They can be 'proof of concepts', but also mature products. Contributions typically address the 'extras' needed to achieve a useful implementation. In addition, there will be invited position talks by the worksshop organisers.
Submission
All contributions must be submitted via EasyChair.
All submissions must be in PDF format and must not exceed 6 pages for full papers (plus one for references), respectively 3 pages for short papers (plus one for references). Papers should be formatted according to the ECAI formatting guidelines. All submissions will be evaluated in a peer review process and selected according to their quality, significance, originality, and potential to generate discussion. Each contribution will be reviewed by at least two referees from the Program Committee. Papers may be accepted for either oral or poster presentation. Accepted papers will be published as a collection of working papers. As AI4AI is a workshop, not a conference, submission of the same paper to conferences (e.g., ECAI or IJCAI) or journals is acceptable, but must be indicated. To accommodate the publishing traditions of different fields, authors of accepted papers can ask that only a one-page abstract of their paper appear in the proceedings. The workshop is also open to people who would like to attend without submitting a paper.
All questions about submissions should be emailed to the contect organizers.
Important Dates
Be mindful of the following dates:
July 21, 2023: Workshop Paper Due Date
August 11, 2023: Notification of Paper Acceptance
September 1, 2022: Camera-ready papers due
TBA (September 30 - October 1, 2023): Workshop at ECAI
Note: all deadlines are Central European Time (CET), UTC +1, Paris, Brussels, Vienna, Kraków.
Workshop Program
Please consult the ECAI homepage for details about the venue. The workshop program will be announced shortly after notification of paper acceptance.

Note: all times are Central European Time (CET), UTC +1, Paris, Brussels, Vienna, Trier.
Organization
Organizing Committee
Diedrich Wolter is professor of Smart Environments at the University of Bamberg, Germany. His research interests are knowledge representation and reasoning, hybrid AI, and applications of AI. Currently, he is an investigator in the VoLL-KI project and seeks to develop diagnosis and explanation techniques for intelligent tutoring system.
Jochen L. Leidner, FRGS is a research professor of AI at the university of the applied sciences Coburg, Germany. His research is mostly focused on NLP and its applications. Currently, he is an investigator in the VoLL-KI project and seeks to develop chatbot support for AI teaching.
Michael Kohlhase is professor for Knowledge Representation/Processing at FAU Erlangen-Nürnberg, Germany and and adjunct associate professor for Computer Science at Carnegie Mellon University, USA. His research interests include knowledge representation for STEM (Science, Technology, Engineering, Mathematics), inference-based techniques for natural language processing, computer-supported education and user assistance.
Ute Schmid is professor for Cognitive Systems at University of Bamberg, Germany. Her research interests are mainly in the domain of comprehensible machine learning, explainable AI, and high-level learning on relational data, especially inductive programming. Research topics include generation of visual, verbal and example-based explanations; cognitive tutor systems; analogical problem solving and learning. Ute Schmid is a pioneer of Computer Science for Primary School (FELI) and is engaged in the domain of AI education.
Vania Dimitrova is professor of Human-Centred Artificial Intelligence at the University of Leeds, UK. Vania Dimitrova leads research activity on human-centred artificial intelligence which builds intelligent systems that help people make sense of data, take decisions in complex settings, expand their knowledge, learn from experience, and develop self-regulation skills. She is currently President of the International AI in Education Society.
Program Committee
TBA
Venue
The workshop will take place at ECAI 2023 in Kraków, Poland